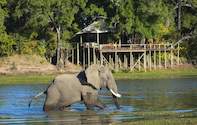 Come to Chindeni Bushcamp for your Zambia holiday, specializing in South Luangwa walking safaris, you will learn more about Zambia and its abundant wildlife.
Make use of the chalets at Chindeni Bushcamp
Go on South Luangwa walking safaris
Explore Luangwa Valley on this Zambia holiday
Tantalize your taste buds with Zambian cuisine
This Zambia safari lodge is situated in the remote region of South Luangwa National Park in Zambia. It is shaded by a grove of large Ebony Trees that surround its location on the banks of one of Luangwa River Valley's lagoons.
Chindeni Bushcamp offers luxury accommodation in exquisite tented suites, and the opportunity to view the spectacular wildlife of the Luangwa River Valley.
Chindeni Bushcamp offers guided South Luangwa walking safaris, informative day and night game drives and spectacular sundowner trips within the surrounding area giving you a memorable Zambia experience. Walking safaris first began in Luangwa and remain an exciting way to explore this magnificent region. Sip on refreshing sundowners and track nocturnal animals during exciting game drives.