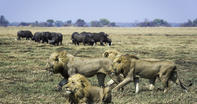 The Kafue National Park is located in the centre of Western Zambia. The Kafue is the oldest and largest National Park in Zambia.
The expanse of the Kafue is 22 400 square kilometres. Due to the size of the park, there are many untouched areas, which allows for large tracts of virgin bush.
In recent years Kafue National Park has experienced investments and new Kafue safari lodges. This has contributed to an upgrade in infrastructure and roads.

Kafue National Park is accessible by air and by road - it is only a 2-hour drive from Livingstone on a well-tarred road.
The best time to visit the Kafue National Park is in the dry season - from June to October. In the wetter months of November through to April, the park is inaccessible due to heavy rain. There are some camps that are open for 12 months (or as near as possible), and this 'green' season is particularly lush. The Kafue National Park is a birder's paradise with over 500 species recorded.

The vast array of habitats contributes to this diversity and the number of endemic species. Similarly, Kafue is not renowned for the sheer number of animals, but rather for the rich variety of wildlife species. The Kafue is home to the cheetah which is only found in Western Zambia. Activities include game drives, walks and boat cruises on the majestic Kafue River.
Travellers looking for a Zambia safari in an untouched wilderness, with a unique diversity of species should definitely choose the Kafue National Park.