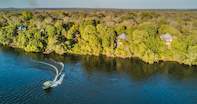 The River Club on the Zambezi River.
The Zambezi River is the fourth largest river in Africa. The river's source is in the Mwinilunga District in the northwest of Zambia, extending for 2700 kms.
The mighty Zambezi River flows through many countries, the Victoria Falls, Lake Kariba, the Lower Zambezi National Park. Mana Pools National Park and finally reaches the Indian Ocean via Mozambique.
The Zambezi River provides food, power, transport, aquatic activities and is home to numerous wildlife species. The river is an endless source of activity and provides tourists with various options for their Zambia safari experience.
The richness of the river makes the Zambezi River the ultimate angling experience. The river banks support abundant game and the opportunity to experience game viewing from a canoe, houseboat or boat. The river also feeds Lake Tanganyika (the world's longest lake), lake Kariba and Lake Mweru.
The river also supports the wilderness areas in the national parks and provides some of the best sightings of pods of hippo and prolific crocodiles. The extent of the Zambezi River means that various areas may be affected by heavy rain and flooding in the months of November to April; Access to the majority of the regions is by air or by road. Due to the expansion of towns and tourism access and logistics are more refined.
There are numerous day trips, tours and excellent Zambezi River Safari Lodges in Zambia.