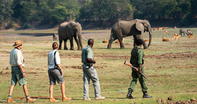 Zambia safari guide to the ultimate African safari destination. Zambia is also the ideal destination for walking safaris, fishing, Zambezi River cruises and canoeing, adventure activities and so much more...
Zambia Safari Destination Guide
Zambia has it all, if peace and quiet is sought, there are many spectacular Zambia safari lodges and reserves as well as protected wetlands off the beaten track. Self-sufficient 4x4 enthusiasts who are well prepared can travel the cardinal directions to see all the best parts of the country for a terrific adventure.
Zambia has the richest water resources in Southern Africa, with 5 huge lakes and many rivers which are ideal for fishing - the greatest of these is the mighty Zambezi River. There are countless Zambezi River activities. Those who enjoy waterfalls will not be disappointed; a tour is suggested for some of the more remote sites. Zambia has 17 beautiful cascades not including the awesome Victoria Falls.
Dubbed the adventure capital of the world, Livingstone has experienced a comeback as the place to be. Minutes from Victoria Falls, the town has become the jump off point for action central - white water rafting down the Zambezi River, bungi jumping, and gorge swinging and of course more sedate activities like game viewing and fishing to name a few.
Like an inland sea, Lake Kariba has ever been popular for fishing and houseboating - the Riviera of Southern Africa draws families and holidaymakers year after year. On the rise is Lake Tanganyika. This vast inland body of water lies in the Great Rift Valley and is known for its clear warm water and more than 350 species of fish. Travelling there is part of the adventure!
Open Vehicle Game Drive Safaris
Zambia activities include custom 4x4 open safari vehicles, which are used to traverse the landscape in search of Africa's greatest animals. Zambia Game Lodges countrywide offer twice daily adventures. Trained guides and trackers conduct the safaris and share their vast knowledge about every creature, the land and seasons.
The best time of day is early morning and late afternoon to beat the heat and see game, especially on the plains and at waterholes. Night drives are also a treat as visitors can see the other side of the African bush and many nocturnal creatures.
Zambia Walking Safaris
A one of a kind adventure, there is little to match Zambia walking safaris in terms of being close to nature and observing animals in close proximity, an absolute thrill in the wild. Highly trained game rangers guide visitors on shorter excursions or on longer mobile safaris. The longer mobile walks include a porter to carry refreshments and overnight stopovers at camps and lodges en-route, to be wined and dined by the owners. All luggage is transported separately and the walks are not strenuous.
Where: National Parks - South Luangwa, North Luangwa (safari operators only), Lochinvar, Sumbu, Nyika Plateau (wild flowers Oct / Nov).
Zambia Canoeing Safaris
Canoeing Safari on the Zambezi - Oh so peaceful and relaxing... and a great way to view game and beautiful riverine vegetation that is incredibly diverse. Paddle around islands and ox box lagoons and let your guide lead you down remote channels. Full day excursions and other longer journeys, with overnights stops along the way, are on offer.
Where: Upper and lower Zambezi, Luangwa and Kafue Rivers.
Elephant Back and Horse Back Safaris
Delightful interactive Elephant encounters and safaris on the back of these amazing animals is an experience of a lifetime. Horse trails and safaris are also a great way to see game and get close to nature - 2 hour rides or overnight excursions are offered.
Where: Both available in Victoria Falls, other horse safaris available just outside Lusaka.
Birding and Photographic Safaris
More than 740 species of bird have been spotted in Zambia. Birds here have diverse habitats in which to live, hence the incredible variety. The great rivers and wetlands are like magnets, but then so are the woodlands, forests and escarpments. Many safari operators and lodges will happily arrange birding safaris in Zambia
Where: Birding - National Parks including Lochinvar (428 species), Kasanka (330 species such as Pels Fishing Owl), Bangweulu Floodplains (Shoebill Stork), Lake Kariba wetlands, Sumbu (Flamingos), Kafue, Lower Zambezi, South Luangwa, Blue Lagoon, Liuwa Plain, Nyika Plateau. Photographic - countrywide, South and North Luangwa, Lower Zambezi, Liuwa Plain.
Adrenaline Sports
Victoria Falls and the Batoka Gorge form the adrenaline centre of Zambia.
White Water Rafting
Thrill seekers will meet their match here when all 23 rapids are navigable. Heart stopping wild rides where hanging on is all you can do in the roaring water. Believe it or not, there is stunning scenery in the Batoka Gorge, carved out over millions of years by the Zambezi River. Sturdy rubber craft are launched from under the falls and visitors can do a half day through to 2 day excursion with camping. The water level generally is high between March and July and so only about 13 rapids can be done - a smoother ride. Once the water recedes then all 23 rapids are possible - hold on for dear life!
River Boarding and Tandem Kayaking
River Boarding is like surfing but on the Zambezi River rapids - great fun in safety gear!Experienced Kayakers steer the craft while visitors add support from the back seat in tandem Kayaking - run at the same time as the river rafting for safety, but all together a wild ride.
Flight of the Angels
This is a spectacular helicopter flight over the magnificent Victoria Falls, flying at a lower level than in a fixed wing aircraft. There are a number or aerial adventures to be had in this area including game viewing flights and microlighting. These all offer a life changing perspective on one of the greatest natural wonders on the planet.
Where: Victoria Falls
Tiger and Fly Fishing
Anglers can have the adventure of their lives in Zambia. There are many fishing havens and lodges to explore, although road conditions and lack of facilities should be taken into account for the intrepid fisher person. There are many first class camps and lodges to choose from around Zambia.
Where: Upper and Lower Zambezi, Lake Kariba, Lake Tanganyika (Sumbu Nat Park), Kafue Nat Park (Kafue / Lunga Rivers and Itezhi Tezhi Dam), Mosi-O-Tunya Nat Park (Victoria Falls).
Zambia Houseboating
A major attraction, although quieter on the Zambian side of Lake Kariba, this is a wonderful way to relax, game view, fish and swim especially at full moon when twilight can be fully appreciated. The houseboats accommodate large groups of friends and families at one time in a number of cabins on board.
Visitors can self-cater or arrange for a full crew to cook and see to everything. Daily excursions can also be arranged for fun parties and outings around the lake or island hopping - sunny skies and warm weather here most of the year.
Where: Lake Kariba
Scuba Diving
Care to dive in clear, warm waters of one of the greatest inland lakes of the Rift Valley? Then Lake Tanganyika is the place. Visitors can learn to dive or extend their knowledge in this amazing lake - a biologically unique habitat with huge varieties of tropical fish. Ndole Bay has a fully equipped and professional PADI dive centre.
Where: On the edge of Sumba National Park, Lake Tanganyika
Golfing in Zambia
Excellent courses are to be found in the high profile areas in particular, and various towns. There are at least 22 golf courses both 9-hole and 18-hole in Zambia. Zambia Golf Courses: 18-hole - Lusaka, Ndola, Luanshya, Kasama, Chingola, Mufulira, Monze, Kitwe, Kabwe. 9-hole - Lusaka, Livingstone, Mpika, Mazabuka, Maamba, Mansa, Chililabombwe, Choma, Chipata, Mbala, Kalulushi.