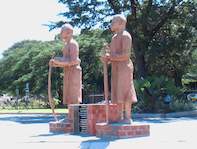 Livingstone in Zambia is a tourism hub for visitors to the spectacular Victoria Falls. This historic town has a variety of Zambia accommodation options and some of the best adventure activities in the world.
Livingstone
Livingstone is now a
high adventure destination
but was once a bustling European settlement named after the intrepid explorer Dr David Livingstone who traversed southern Africa searching for the source of the Nile.
Home of the countrys first newspaper and the capital of Northern Rhodesia as Zambia was known at the time, this town came in to being in 1905, by this time the
inspiring Victoria Falls bridge
had been built, opening up a railway link between the Copperbelt and coal deposits at Wankie now Hwange in Zimbabwe.
Being the Capital city at that time,
Livingstone enjoyed very good facilities
and became the place to be. Its Edwardian heritage can still be seen in the colonial buildings lining the main street. However this changed in 1935 when the Capital was moved to Lusaka.
Over the years, neglect has crept in, but there is a certain charm about it even now. Livingstone is currently a hotspot for travellers visiting this part of the Zambezi River and Victoria Falls, a World Heritage Site.
Climate
There are 3 very distinct seasons in Zambia
December to April is very warm and wet with heavy downpours usually late in the day.
May to August is dry and cool, getting cooler toward the end of this period.
September to November is dry and hot, getting hotter toward the end of this period.
Sightseeing
Museums:
The Livingstone Museum is Zambias oldest and biggest museum, operational since the 1930s. Visitors can move through from Archaeology to Ethnology and the Art Gallery, then through Natural History to the History Gallery. There is a large collection of David Livingstone memorabilia, and a library.
The Railway Museum
will entertain steam engine enthusiasts with historical locomotives and coaches from the pioneer days, also a photographic collection from that era.
Things to do
Golfing:
Livingstone has a magnificent parkland 18-hole par 72 golf course set in tranquil manicured gardens with many trees. The Livingstone Royal Golf and Country Club has a wonderful historical Edwardian Club House with a long veranda overlooking the fairways.
There are 2 eateries, one for casual meals and the other for a la Carte meals. Other facilities include a pro shop, gym, lawn tennis, swimming pool, play ground and Spa.
Fishing:
Enthusiasts can spend time testing their skills on the beautiful Zambezi River where Tiger Fish, Bream and other varieties can be found.
Flights of fancy:
Visitors can try Microlighting over Victoria Falls, looking down at the massive 2km (1.24 miles) slice into the earth and following the gorges for 8 km (5 miles) or take a helicopter flip, fixed wing flights are also offered.
Walks and Guided tours:
The Rainforest walk next to the Falls is a must - take a coat if getting wet is not an option!  There are lots of walks and guided excursions available in Livingstone and the surrounding area depending on visitors time and interests.
Markets, Curios, Arts and Crafts:
There are 2 colourful markets in Livingstone and 3 art and craft outlets  2 in the town itself (1 with a coffee shop and a vegetarian restaurant) and 1 at the airport. Visitors can browse the many examples of ethnic art and also furniture.
Restaurants:
Livingstone has a variety of eateries, quality independent restaurants and international hotels, and pubs. Visitors can find an Indian Restaurant and takeaways, Chinese food, pubs with grub, fast food, a pizzeria also making shwarmas and burritos, and coffee shops.
Adventure Activities
Livingstone has now taken on a new identity as the adventure capital of southern Africa.
The Zambezi River, Victoria Falls
and the Batoka Gorge are in close proximity to the town and its an excellent base from which to explore all the action.|
White water rafting:
One of the most intense experiences that can be imagined!  Its a wild rollercoaster journey rafting from the base of Victoria Falls through the Batoka Gorge.
There are 13 thundering rapids when the river is high, usually March to July. Once the water level drops then the full 23 rapids can be done. This adventure can be taken in a half day, full day or 2 day (with camping in the gorge) excursion.
Bungi Jumping:
For a life changing rush, take a leap of faith from the highest bridge jump in the world! The bridge, between Zambia and Zimbabwe in no mans land is 111 metres high and spans the Batoka Gorge, with the mighty Zambezi River below.
Riverboarding, Abseiling and Gorge Swinging:
Riverboarding is like surfing, but on the Zambezi River through rapids, safety gear is worn but it is a lot of fun and rewarding too. Abseiling down the gorge, high wiring, gorge swinging and rap jumping with a safety harness and as much courage as can be mustered  visitors can spend the whole day doing them all for maximum fun!
Tandem Kayaking and Canoeing:
Another great adventure negotiating rapids with a seasoned white water rafting guide! For a more sedate experience, guided canoeing is just the ticket. Visitors can glide along the Zambezi and take in the beautiful scenery, skirt islands and watch the wildlife. There are also overnight trips with camping on the islands.
Jet Boating:
This is a thrill ride in hi speed jet-propelled boats over the rapids on the Zambezi River.
Horse Riding Trails and Elephant Back Safaris:
The horse trails are a delight through wonderful scenery including river crossings and camping out if a 2 hour ride is not enough. The Elephant Back Safaris take place on the Zimbabwean side of Victoria Falls through a valley and along the Masuwe River.
Access
By Air:
There are scheduled flights from Lusaka, Zambia, and internationally from Johannesburg, South Africa as well as from a variety of African countries. Livingstone Airport is well served by a number of Air Charter companies combining various destinations locally and internationally.
By Road:
From Lusaka, Livingstone is 470km (292 miles) southbound on the Kafue Road. Just after the Kafue River Bridge, take the turn right towards Mazabuka, this road continues to Livingstone.
From Victoria Falls town
, cross the border on the Victoria Falls Bridge and continue up the road for 11km (7 miles) to Livingstone.
From Botswana
, take the ferry at Kazungula to cross the border. Continue east for about 60km (37 miles) to Livingstone.
Livingstone Accommodation and Tours in Zambia
See a selection of Livingstone Accommodation and Tours in Zambia