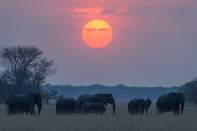 © Shem Compion
This Zambia Travel Guide acts as an introduction to this amazing African country. New Zambia safari destinations such as Kafue National Park as well as the more popular parks like South Luangwa offer amazing wildlife viewing. Zambia is famous for pioneering the walking safari.
Some say Zambia is the best kept secret in Africa, an undiscovered mecca for a variety of
safari and game viewing activities
. It is a raw slice of Africa  friendly and with many unspoilt wild places worthy of any pioneer!
Zambia is a landlocked country situated mostly on a plateau with great valleys hills and some mountains, the
Zambezi is the main river
with its tributaries of Luangwa and Kafue. Zambia shares borders with several countries namely Democratic Republic of the Congo, Angola, Namibia, Botswana, Zimbabwe, Mozambique, Malawi and Tanzania.
There are 3 great natural lakes in northern Zambia, Bangweulu, Mweru (shared with the DR of Congo) and the southern section of Lake Tanganyika - one of the
deepest natural lakes in the world
. On the southern border of Zambia is Lake Kariba, which is the largest man-made lake in Africa and one of the largest in the world, further round is the
magnificent Victoria Falls
, the source of endless fascination and adventure.
Zambia is characterised by its miombo woodlands, large lakes and vast floodplains as well as spectacular waterfalls and mighty rivers. It is one of the last true
wilderness areas in Africa
, some say an undiscovered gem, either way the wildlife is abundant and the people are friendly.
Climate
There are 3 very distinct seasons in Zambia:
1. December to April is very warm and wet with heavy downpours usually late in the day. 2. May to August is dry and cool, getting cooler toward the end of this period. 3. September to November is dry and hot, getting hotter toward the end of this period.
The average temperature in summer is between 25C to 35C (77  95 Fahrenheit) and in winter from 6C to 24C (43  75 Fahrenheit).  Zambia generally has a moderate climate with intense heat felt usually in the valleys.
The nights are generally cool throughout the year. The best time to view game is during the dry season as the flora is sparse affording better opportunities to see the game.
History
Zambian history stretches far back in time with evidence of occupation from 3 million years ago. The interesting progression through the Stone Age years changed with the
arrival of immigrants from northern Africa
between 300BC and 400AD, early in the Iron Age.
Great changes occurred again with the arrival of the European traders in the 15th Century and the advent of slavery, also with
movement of Zulu tribes
on to the land from Southern Africa in the early 19h Century.
English explorers also started expeditions into the interior from Southern Africa and yet another new era began, culminating in British colonial
rule for Northern Rhodesia
as the country was known then.
The discovery of copper and the mining thereof in the late 1920s made this Copperbelt world famous. Independence and membership of the Commonwealth came about in 1964.
Population
Zambia has many different tribes, more than 70, and numbers about 10 million. Urban areas have the most concentrated populations.
Zambians are friendly people
, very keen to talk and learn about others as they are to share knowledge about their own country and assist travellers where possible, many villagers along main roads will offer tyre mending services for a small fee!
Language
Zambia has over 70 different dialects but the official language is English which is widely spoken, most Zambians have a fair grasp of the language. The next most widely understood language is Bemba followed by at least 6 others.
Religion
Christian beliefs are followed by most Zambians; there are also Muslim and Hindu communities. Traditional African beliefs are widespread also.
Culture
Generally, traditional
ceremonies and cultural practices
have been maintained in the rural areas amongst the many tribes, with western ideas and aspirations predominating in the urban areas.
Opportunities to witness traditional ceremonies are not commonplace, but should be taken to fully
embrace the Zambian experience
; the ceremonies are colourful and full of meaning, a photographers delight!
For photography, permission should always be sought from the local people first, in all instances and greetings exchanged at the start of conversation - this applies to ANY
interaction with the Zambian people
(it is considered impolite to start a conversation without conducting greetings first).
Many traditional musical instruments are still used today, these include the hand piano, the silima (type of xylophone) and of course a variety of drums which are all important for any kind of ceremony and community communication. Traditional dance is also an integral part of
the Zambian culture.
Zambia has a diverse population and with it a wide range of artistic skills, including magnificent basketry in which the
people of the western provinces
are especially skilled. The design and firing of traditional pottery is also still practiced. Crafters in the cities have started using modern materials and make a variety of useful wares from everyday items.
The most common cuisine in Zambia is a dish called nshima, made from ground maize and resembling sweetened cooked porridge early in the day, usually breakfast, becoming thicker, much like mashed potatoes for savoury dishes at lunch and dinner, it is often served with chicken, meat or fish. Although
Zambia lodges, hotels and camps
serve international cuisine of high standard, this dish can often be prepared in safari camps if visitors request it.
Cities
LUSAKA - The capital city which lies at the junction of the main highways to all directions. It attracts a large section of the population, drawn by the cosmopolitan lifestyle and possible employment.

LIVINGSTONE - Known as the adventure capital is only 10km (6 miles) from Victoria Falls. Many adventure companies operate from here for activities such as bungi jumping and white water rafting.

The COPPERBELT - incorporates the mining towns of Ndola, Kitwe, Chingola and Luanshya. Other towns include:

CHIPATA - A busy town that was once an important trading post. Its the gateway to the Luangwa Valley and Malawi.

CHOMA - Halfway between Lusaka and Livingstone with a museum and craft centre.

ISOKA - Just off the Great North Road with basic amenities and a set of waterfalls nearby.

KABWE - Discovery site of the prehistoric Broken Hill Man, also has other attractions like The Big Tree and a mine.

KAPIRI MPOSHI - A small railway town and a good place to fill up with petrol for onward journeys.

KASAMA - Quite a big town with most amenities.

KAZEMBE - A small town on one of the best roads in the country, best known for an annual ceremony held in late July.

MANSA - Centre of the Luapula province close to the Copperbelt.

MBALA - Now a quiet town but with a history of importance during the First World War, there is also an interesting museum nearby.

MKUSHI - A small farming town off the Great North Road with basic amenities.

MONGO - A busy town overlooking the Zambezi River floodplain. Traditional culture is well represented here with an annual ceremony and traditional crafts, there is also a museum.

MPIKA - One the bigger towns in this area on the Great North Road with good amenities and hot springs.

NCHELENGE AND KASHIKISHI - 2 quaint villages on Lake Mweru with basic amenities.

SERENJE - A small town on the Great North Road with simple amenities and a restaurant.

SIAVONGA - On the north shore of Lake Kariba with good amenities, its great see and walk on the massive Kariba Dam wall.
Currency
The national currency is The Kwacha with various denominations ranging from 50 up to 50 000 kwacha notes. The value of the currency changes often and is best checked regularly. Currency exchange is best at the
bank or Bureaux de Change
in the main cities of Zambia; visitors can also carry small denominations of US Dollars although Kwacha will be needed for rural areas.
Bank operational hours are 8.15am to 2.30pm Mondays to Fridays, and 8.15am to 10.30am on the 1st and last Saturdays of the month. Credit cards are accepted at most hotels and restaurants, travel agencies and larger shops.
When to Go
HOT AND DRY: For viewing wildlife August to October is the best time to visit Zambia, bearing in mind that the temperatures do increase toward the end of that period in the valleys and low lying areas, most of the National Parks are in these areas.

COOL AND DRY: Cooler weather and greener vegetation can be found from May to August.

WARM AND WET: The rainy season occurs from November to April, some of the National Parks do close at this time.

Lodges that remain open usually offer good rates, the vegetation is lush which will make the animals a bit harder to see although they do tend to move to higher ground, but visitors will have a quieter experience as the Parks are less busy. Canoe and boating adventures flourish during this time, also migratory birds arrive.

Many roads are impassable in the rainy season but the birdlife during November and December will be especially prolific . Zambia is a bird watchers haven all year round really.
Travelling around Zambia
AIR TRAVEL:
The distances by road are great, and so many visitors generally take advantage of scheduled and charter air services, departure taxes not collected on the air tickets will need to be paid in US Dollars at domestic and international airports.
ROAD TRAVEL:
Driving is on the left hand side of the road with a general speed limit of 100km/h (62 miles/h) on national highways and secondary roads, and 65km/h (40 miles/h) in urban areas, unless otherwise shown.
Many rural roads are impassable in the rainy season. Some roads are suitable for standard vehicles but to get to
some of the most scenic spots
, off-road vehicles will be needed. Tools and essential spares, water and other necessities like rope, spotlight and a winch should be brought along on road trips.
Road conditions vary and can be very poor. Repairs are constantly being undertaken but visitors should always exercise caution. Visitors may encounter potholes,
impressive animals crossing
, pedestrians, vehicles without lights, broken down vehicles and general bad driving.
Petrol is available in most towns, becoming pricey moving away from the railway line; spare supplies should always be carried. All necessary papers, including an International drivers license or a SADC licence, should be kept safe and at hand for easy access.
In Lusaka
, car theft is a problem; visitors should put stringent preventative measures in place, or not leave the vehicle unattended. Nothing visible should be left in the vehicle at any time.
BUS SERVICES:
There are frequent local, clean bus services from Lusaka to all main towns. Minibus and taxi transport (all painted blue) is available to hop and off as needed, visitors can also negotiate with the driver for a private hire. There are international services to Harare and Johannesburg.
TRAIN SERVICES:
Train services can be found between Livingstone and Lusaka, Lusaka to the Copperbelt (Kitwe) and Kapiri Mposhi to the Tanzanian border. Visitors should book a family compartment in First Class for overnight trips and will need to bring all their own supplies (water for drinking and washing and food). The trains are a bit tatty and untidy, but the linen is fine.
Water
Tap water is treated in Zambia but boiling it is recommended especially in the rural areas except when staying at a lodge or hotel in Zambia where this is already done; bottled water is a good alternative and can be purchased in the bigger towns.
Attractions in Zambia
VICTORIA FALLS:
Beautiful and awe inspiring, these incredible falls on the mighty Zambezi River at the border of Zambia and Zimbabwe, are almost 2km (1.24 miles) wide. The water thunders over the cliff and drops into a deep gorge over 100 metres below. The columns of spray can be seen from miles away and have entranced many explorers and visitors for generations. Its a superb adventure destination.
ZAMBEZI RIVER:
Africa's 4th largest river runs through 6 countries starting in central Africa and emptying into the Indian Ocean. Incredibly powerful it has created the Victoria Falls and the Batoka Gorge. It enjoys a protected status at various places along its banks giving visitors a chance to enjoy the natural beauty and wildlife sanctuaries. The Kariba Dam on the Zambian and Zimbabwean border harnesses its power for hydro electricity.
LAKE KARIBA:
Looks and feels like an ocean, this massive record breaking man-made dam is 226km (140 miles) long and 40km (25 miles) wide in some places. A popular holiday hotspot, like a Riviera really, with great weather year round, resorts, fishing, houseboating and water sports. Made from the waters of the Zambezi River and with an impressive dam wall, it also provides hydro electric power to Zambia and Zimbabwe.
LAKE TANGANYIKA:
Crystal clear waters with brightly coloured fish make for a great lakeside holiday destination. This landlocked sea is shared by Tanzania, Burundi, Democratic Republic of the Congo and Zambia. Many activities can be enjoyed by visitors staying here, scuba diving, fishing, and game viewing, hot springs, rainforest and waterfalls, also cruising.
ZAMBIAN WATERFALLS:
Zambia is blessed with many of these and there are about 12 large ones situated mostly in the northern and north western parts of the country.
CHIMP SANCTUARY:
West of Chingola on the Kafue River in remote north western Zambia is the Chimfunshi Wildlife Orphanage, a sanctuary for Chimpanzees and a variety of other animals that have been taken in to care. The sanctuary celebrates 25 years of dedication and caring in 2008. All donations and caring visitors are welcome.
SHIWA NGANDU:
An historic working estate has a very grand manor overlooking a lake which was built in 1932, quite a rarity in this remote part of Zambia. Farming and safaris still operate from here; there are hot springs, falls, walks, boat trips and fishing on the lake.
LAKE BANGWEULU:
A beautiful lake, quite stunning, as yet undeveloped but with great potential, it is an interesting stop for the adventurous traveller.
LAKE MWERU:
Another beautiful lake shared with Zaire and the Democratic Republic of the Congo. The lake supports a colourful community of people living on its banks and making a living from its warm waters.
LIVINGSTONE MEMORIAL:
This memorial to an intrepid explorer, David Livingstone who searched for the source of the Nile and trekked around most of southern Africa, is located where he passed away under a tree in 1873. The memorial now stands on this spot. There is an attractive drive to the location which is between the town of Serenje and Kasanka National Park.
MONUMENTS AND HISTORICAL SITES:
No less than 15 fascinating sites and monuments. Visitors can see a fossil forest, rock paintings, ancient rock formations, shelters and engravings, colonial monuments and memorials. 
M--UMS:
Located in; Choma, Ndola, Livingstone, Mbala, Lusaka, Mongu and Victoria Falls.
ART GALLERIES:
There are 6 in Lusaka and 2 in Livingstone.
Adventure Sports in Zambia
The Zambezi River, Victoria Falls and Batoka Gorge play host to a big choice in heart pumping adventure activities. Visitors will find everything they could hope for and more in this amazing area.
Travellers can white water raft over 1323 raging rapids and then bungi jump in the same day. There are also longer
rafting adventures in Zambia
for the adrenalin junkies with full spectrum rafting and then camping under the stars to be ready for action again the next day.
Or visitors can tackle river boarding, abseiling and gorge swinging. There are regular
Kayak and canoe trips
. Horseback trails can be found here also and just outside Lusaka. For those who enjoy aerial adventures, there are Microlight, helicopter and fixed wing flights over Victoria Falls and the Batoka Gorge, Quadbiking is also offered.
Scuba diving enthusiasts who want to learn, skill up and explore can now do so at Lake Tanganyika, the
largest freshwater lake in the world
. A variety of courses is offered here on the Zambian side in the crystal waters, teaming with colourful fish.
Safari Adventures in Africa
The choices are amazing! So much to see and do in Zambia, visitors thinking that open vehicle safaris are the only way will be surprised at how exciting
Zambia walking safaris
can be, mobile walking safaris are unhurried and not strenuous with refreshments and meals all provided on the way, and of course great safari hosts and amenities every night.
Many Lodges and Camps offer
open vehicle safari game drives
early and late in the day and exciting night drives to view nocturnal creatures. Sundowners from a scenic spot are very popular.
Horse back safaris offer a whole new perspective near Victoria Falls or observing plains game outside Lusaka. Another type of ride is on Elephant back. Unique and very special.
For a peaceful glide viewing game, birdlife and magnificent scenery en-route, try a canoe safari on the
Zambezi and Luangwa Rivers
. Specialised safaris include birding and photographic adventures.
Wildlife
LARGER ANIMALS FOUND IN ZAMBIA:
Carnivorous:
Leopard, Lion, Cheetah, Spotted Hyena, Wild Dog
Non-carnivorous:
Elephant, Hippo, Buffalo, Giraffe, Zebra, Wildebeest, Warthog
Smaller animals found in Zambia
Small Carnivores:
Include Jackal, Aardwolf, Serval, Civet, Genet, Mongoose, Honey badger to name a few.
Primates:
Include Night Ape, Bush Baby, Baboons and monkeys.
Antelope:
This group is especially interesting and includes Wildebeest, Giraffe, Waterbuck and Lechwe as they have subspecies endemic to Zambia. There are many other types of antelope present including Eland, Sable, Kudu, Hartebeest, Oribi, Roan and Impala to name just a few.
Reptiles:
Include Crocodile and Monitor Lizard.
Rodents:
Include Aardvark, Hyrax or Dassie, Pangolins, Porcupines, Squirrels and hares.
Birdlife:
Zambia is well known for its birdlife with around 740 recorded species.