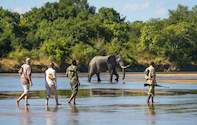 Chindeni Bushcamp specializes in walking safaris. You can track and find large and small game on your Zambian safari.
Chindeni Bushcamp offers a range of game activities from walking safaris, vehicle safaris or a combination of the 2 for guests on their Zambia safari. Knowledgeable and highly skilled guides will accompany you on these game activities.
Walking Safaris
Embark on a walking safari to spot an abundance of birds that fly over the Zambia skies at your Africa safari accommodation. An expert will guide you on your journey to explore the Zambia bush. Learn about the different insect species, fauna and other smaller creatures that roam the bush.

Your guides will show you how to track wildlife, how to listen out for any dangerous predators approaching and show you the various plants that grow in the region and their different medicinal uses.
Game Drives
Your day safaris will be taken in open 4-wheel drive vehicles or on foot, which is the best way to see and experience the fascinating surroundings. The Luangwa is one of the few parks in the whole of Africa that allows night drives on a Zambia safari. The guides make use of strong spotlights to view the nocturnal life of the area.

Catch a glimpse of the Porcupine, Leopard and other nocturnally active species not commonly seen during the day. Hyena are commonly spotted in the evenings and their eerie characteristic cry can be heard on most nights. The Bush Baby is also unlikely to be seen, except on night drives.

A large Elephant population, Thorneycroft's Giraffe, Puku and other more common species, are in abundance. South Luangwa National Park is home to over 40 species of mammals and 400 species of birds. Birding enthusiasts will be kept busy and intrigued for a long while during their Zambia safari.