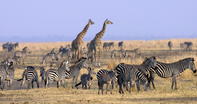 Katavi National Park is the third largest National Park in Tanzania. Due to the Parks remoteness the park is less visited which adds to the sense of endless untouched wilderness. The south west of Tanzania forms part of the Great Rift Valley that ends at Lake Katavi.
The main game viewing area in Katavi National Park is at the Katuma River. During the rainy season from December to February the roads in Katavi National Park are often flooded. From February to April the area is slightly more accessible. The best time to visit is the dry months from May to October. The Katuma River recedes and the floodplains with pools of water attract intensive game sightings.
The most impressive sightings are the pods of hundreds of hippos in the remaining pools at the end of the dry season. Katavi National Park is best accessed from Dar es Salaam or Arusha by charter flights. Overland travel is possible, however allow for additional travel time due to distance and road conditions.
Explore Africa of a bygone era in an untouched wilderness sanctuary. See Katavi National Park Safari Lodges in Tanzania below.
Chada is the only Tanzania safari camp in a million acres of what is probably the most exciting game park in East Africa - Katavi National Park...
more
Nestled amongst trees surrounding a game rich floodplain in the Katavi National Park, the Katavi Wildlife Camp provides an exclusive Tanzania safari experience mixed with spectacular game viewing....
more