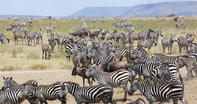 The Serengeti National Park lies in northwestern Tanzania, covering 14,763 sq km (5,700 sq miles) and is located 335k (208 Miles) from Arusha, stretching north into Kenya and bordering Lake Victoria in the west.
There are scheduled and chartered flights daily to the park from Arusha, Lake Manyara and Mwanza. Road accesibility is from Arusha, Lake Manyara, Tarangire or Ngorongoro Crater.
Serengeti National Park has such a varied collection of wildlife and an awe-inspiring ancient migratory system that it never ceases to amaze first-time guests and even seasoned travellers on a Tanzania safari. The local Masai calls the Serengeti National Park in northwestern Tanzania "the place where the land moves on forever" and indeed it is.
This vast landscape conjures up images of wide open plains and the annual Serengeti migration of more than a million wildebeest and zebra as far as the eye can see. But the Serengeti National Park is not only known for the annual migration of wildebeest and zebra, there are vast numbers of plains game in the reserve and visitors will also have the opportunity to witness lions, leopards and cheetahs in abundance just waiting for the perfect moment to strike.
Accommodation in Serengeti National Park in Tanzania is offered at luxury Tanzania safari lodges and activities include guided game drives and hot air balloon safaris. Serengeti National Park safaris can also be combined with a beach holiday in Zanzibar, Tanzania.
See Serengeti National Park safari lodges in Tanzania below.