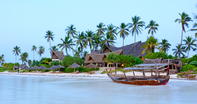 On the Tanzania Coast, the Indian Ocean provides a full range of seafood, and the Swahili style of food is delicately flavoured by spices and coconut milk and features fragrant rice, grilled fish and prawn curries Tropical fruit such as coconuts, pawpaws, mangoes, pineapples and bananas are abundant, as are the delicious fresh juices made from them.
There is much greater variety of cuisines in the cities and tourist spots. The hottest months are October to February; on the coast it is generally hot and humid. See below tours and Tanzania safari holiday packages that include the beautiful Tanzania Coast beach lodges.
An idyllic Robinson Crusoe Island, Lazy Lagoon is the perfect way to start or end your Tanzanian vacation. This Tanzania beach hotel...
more
Protea Hotel Amani Beach is located on a beautiful stretch of broad white beach. This Tanzania beach hotel sits on 46 hectares of beautifully manicured...
more