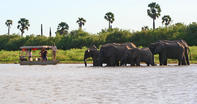 Selous Game Reserve is located in southern Tanzania. Traverse the rolling plains and secluded lagoons of the world's largest and arguably the most untouched wilderness in Africa, the Selous Game Reserve.
Due to its astounding natural diversity and untouched state, Selous Game Reserve has been listed as a protected UNESCO World Heritage Site since 1982. It was named after Englishman Sir Frederick Selous, a famous big game hunter and early conservationist who was killed in the reserve during WW1.
With the main focus on the inland delta of the Rufiji River which starches through the wilderness, this expansive park, spreads over 55 000 km and is home to a vast array of fascinating and unique wildlife, with a phenomenally large mammal population and even hosts some of Tanzania's last remaining black Rhinos.
See Selous Game Reserve safari lodges in Tanzania below.