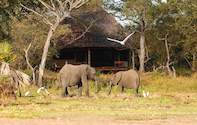 Nyerere National Park (formerly known as Selous Game Reserve) is the largest protected wilderness in Africa and is important because of its elephant migration routes, rare wild dogs, and vast herds of animals.
Why We Love it and You Will Too
Stay in octagonal canvas tents with luxury furnishings and alfresco showers and outdoor free-standing bath
Located on the shores of Lake Nzerakera on the byways of the Rufiji River
Superb safari activities include game drives, walking safaris, boating safaris, bush dining and sundowners
Dine in the restaurant or at a table outside with gorgeous views of the lake
Nyerere National Park has 40 000 hippos and some of the largest lion populations and wild dogs in Africa
Your Siwandu Camp Experience
This Selous safari camp is situated on the banks of the Rufiji River in Selous Game Reserve, Tanzania. This reserve in Tanzania offers the perfect opportunity for riverboat game viewing and fishing.
This is one of the most photogenic, wildlife-rich areas of the Selous Game Reserve, and during the dry season (June to October), concentrations of animals along the river is astonishing. African wildlife sightings can include zebra, wildebeest, waterbuck, giraffe, impala, hyena, leopard, rhino, buffalo, elephant, lion, hippo, wild dog and more.
This Tanzania safari lodge is designed to blend in with the scenery with thatched roofs on raised wooden platforms. They provide a homely look created by floor rugs, wooden furniture and an en-suite bathroom with an open-air shower.
This safari camp in Tanzania is so well placed by the Rufiji River, a lake and the bush that you have a wide choice of activities in Nyerere National Park
Go by boat amongst hippopotamus and crocodiles and see amazing bird life. Travel in specially adapted 4x4 vehicles along the Rufiji River banks or get close to nature on bush walks along ancient paths trodden by elephant and buffalo.