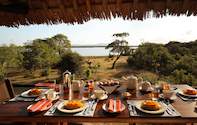 Siwandu Camp is located on the banks of the Rufiji River in the north-eastern sector of the Nyerere National Park (formerly known as Selous Game Reserve) in Tanzania.
This Selous safari camp is located within an open palm forest on the shores of Lake Nzerakera, a massive lake adjoining the Great Rufiji River in the Selous Game Reserve, Tanzania. This Tanzania safari lodge is located at the centre of this unique riverine and lake complex, with the highest concentration of African wildlife and myriad bird life. There are no fences at this camp in Selous Game Reserve, allowing African wildlife to wander freely through the camp.
Selous Game Reserve is named after the legendary 19th century English hunter-explorer Frederick Courtney Selous, whose African adventure books became best sellers in Victorian England. It remains a reserve that attracts the more intrepid and adventurous explorer as it is off the beaten track of the main tourist routes.
Accessing Siwandu Camp
By Road
Access to the camp is through road transfers via the Matambwe Gate, arranged by Siwandu Camp, and no self-drives are permitted.
By Air
Flights from Dar es Salaam, Arusha, Zanzibar, Kilwa, Mafia and Ruaha land at the Siwandu Airstrip in Selous. Guests are collected at the airstrip and transferred to Siwandu Camp via a 5-minute drive.
GPS Coordinates
7° 40 '19 " S -38 ° 07 '23 " E