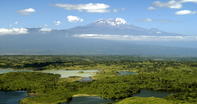 Arusha in Tanzania is the gateway to the northern circuit which comprises Serengeti, Lake Manyara, Tarangire, as well as the Ngorongoro Crater. Yearly, the temperature ranges from 13 degrees Celsius to 25 degrees Celsius, and the seasons between wet and dry seasons.
Due to Arusha's altitude, dry air is prevalent. Arusha experiences an eastern prevailing wind from the Indian Ocean, a couple of hundred miles east. Arusha was first established in 1900 by the German colonialists as a garrison and has been revived as the headquarters of the East African Community.

The primary industry of the Arusha region is agriculture, with large vegetable and flower producers sending high-quality produce to Europe. Among Arusha's notable districts are the Central Business Area, located by the Clock tower, Sekei in the North-West which is largely residential with a vibrant nightlife, Njiro, a rapidly-growing suburb in the South, and Tengeru, a lively market-town in the East. Visit the famous Arusha Hotel, with it's old bar, frequented by John Wayne during the filming of 1960's movie Hatari.

Arusha is served by Kilimanjaro International Airport, some 60km East, approximately halfway to Moshi. The airport provides international and domestic flights. Arusha Airport is a small domestic airport in the West of the city. There are no passenger train services to or from Arusha but there are regular coaches (buses) to Nairobi, Dodoma and Dar Es Salaam.
Arusha has a lively music scene, notably Tanzanian hip hop, blending Maasai and Swahili influences with western music, locally known as Bongo Flava. Explore the town of Arusha as well as the nearby Arusha National Park at these Arusha safari lodges in Tanzania.