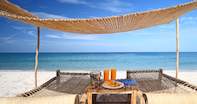 Dar es Salaam is the largest city in Tanzania. The city is located on the southern coast on the Indian Ocean. Dar es Salaam, which means, a haven of peace, is situated on a large natural harbour. The government was moved to Dodoma in the centre of the country in the 1970s. Dar es Salaam remains the capital and and the central government still operates, by and large from there.
Dar es Salaam is often a transit point for tourists visiting Zanzibar, Selous or Ruaha National Parks on a Tanzania safari. The dry season from June to October is the ideal time to visit the capital. The rest of the year is filled with extremely hot temperatures and intense humidity.
The town of Dar es Salaam offers interesting colonial buildings in the old town, lively markets with colourful clothes, diverse eateries and the history museum. The city is a stepping stone to the wonders of Tanzania. See Dar es Salaam Hotels, resorts and beach lodges.