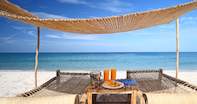 Dar es Salaam is the largest city in Tanzania. The city is located on the southern coast of the Indian Ocean. Dar es Salaam, which means, a haven of peace, is situated on a large natural harbour.
Dar es Salaam is the perfect holiday destination! With stunning white sand beaches, ancient fortresses, and vibrant markets ready to explore, you can easily spend a memorable vacation here. Plus, you can take advantage of its picturesque natural beauty.
Dar es Salaam is often a transit point for tourists visiting Zanzibar, Selous or Ruaha National Parks on a Tanzania safari. The dry season from June to October is the ideal time to visit Dar es Salaam. The rest of the year is filled with hot temperatures and humidity.
The town of Dar es Salaam offers interesting colonial buildings in the old town, lively markets with colourful clothes, diverse eateries and a history museum. The city is a stepping stone to the wonders of Tanzania.
Foodies rejoice - sample local dishes or indulge in fresh seafood with breathtaking views of the Indian Ocean. No matter how long your stay is, there's no shortage of activities in this tropical paradise.
From snorkelling and scuba diving to cultural walks and wildlife spotting, your days will be filled with endless adventures. So come and make lasting memories in Dar es Salaam - let your heart be filled with laughter and joy as you behold Tanzania at its finest!
See Dar es Salaam Hotels, resorts and beach lodges.