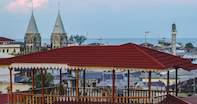 © Eric Miller
Known as the legendary Spice Island, the Zanzibar coast of Tanzania epitomizes all that stands for African exoticness. A striking mix of Indian, Arabic and African cultural influences for centuries has produced one of East Africa's prized possessions.
With its dreamy beaches, alluring turquoise water, aromatic spice farms, forest interiors, cobbled alleyways and whitewashed mosques, all deeply seeped in history and culture.
Journey past spice farms and the sun-baked villages of the lush forested interior before arriving at the sparkling golden beaches, coconut-infused palms and the idyllic crystal waters of the Indian Ocean. Relax, unwind and soak up the timeless essence when staying at Zanizbar hotels.
Stonetown which is Swahili for old town, the town has been designated as a UNESCO World Heritage site due to its ancient commerce and spice and slave trade history with 19th-century architecture. The heart of Stone Town consists of a maze of narrow alleys sided by, sultans' palaces, merchants' mansions, traditional houses, kaleidoscopic shops, aromatic bazaars and white-washed mosques.
Since most streets are too narrow for cars, the vibrant town is crowded with bicycles and motorbikes. Embrace the unique sights and sounds of Stonetown, by exploring the labyrinth of passageways with ornately carved and studded doors, aromatic food stalls, the House of Wonders, the Palace Museum, St John's Cathedral, the Old Fort, Forodhandi Gardens and the rhythmic harbour dockside.
See Zanzibar hotels and lodges as well as Tanzania safari tours ending in Zanzibar.