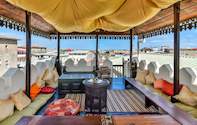 Kholle House is a sumptuous historical Zanzibar boutique hotel in Stone Town that once belonged to the Sultans daughter Princess Kholle.
Experience the luxury and indulgence of a bygone era
A range of comfortable rooms and suites
Contemporary and antique furnishings
An adventure in the heart of ancient Stone Town
Kholle House, a beautiful Zanzibar boutique hotel in Stone Town was built in1860 and belonged to Princess Kholle, the daughter of Sultan Sayyid bin Bargash. This atmospheric home has been lovingly restored to its former glory. Feel like you have stepped into an Arabian dream at Kholle House with its Swahili veranda and roof-top tea house with views over Stone Town.
Kholle House has a noble and austere façade, and is built in a typically Omani Arabic style, while the garden has a more Indo-Victorian fantasy theme. The house has been restored with preservation in mind, creating luxurious suites which are a perfect balance between the modern and antique.
Kholle House Facilities
19th centaury salon and reading room
Breakfast room
Tea, coffee, alcoholic drinks and light snacks available
Conservatory and garden
Rooftop Swahili Teahouse with panoramic views
Outdoor swimming pool and terrace
Wi-Fi available
Transfers and transport on request
Concierge