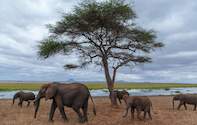 Tarangire National Park lies to the south of the Masailands in Tanzania and is home to miles of African woodland, classic flat-topped acacias trees, ancient baobabs and large herds of elephants roaming the swamps of the Tarangire River and a brilliant variety of bird life.
Herds of up to 300 elephants scratch the dry river bed for underground streams, while migratory wildebeest, zebra, buffalo, impala, gazelle, hartebeest and eland crowd the shrinking lagoons followed by their tenacious predators. All of which can be seen on a Tarangire National Park safari.
With the presence of the Tarangire River, this park forms a sanctuary during the dry season for many migratory animals; as a result, Tarangire National Park holds the greatest concentration of wildlife outside the Serengeti and Ngorongoro ecosystem; with the addition of bulky pythons that climb trees, as do its resident's lions and leopards.
See below Tarangire National Park safari lodges in Tanzania.