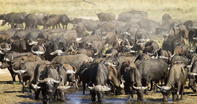 Ruaha National Park in Tanzania is part of the Rungwa-Kizigo-Muhesi ecosystem which covers 45 000 square kilometers. The name Ruaha originates from the Hehe word 'ruvaha' which means 'river'.
The park history dates back to 1910. In the years after various reserves and wetlands were incorporated into Ruaha National Park.
Today Ruaha National Park is the largest park in Tanzania and East Africa - with an area of about 2230226 square kilometres. The park serves both wildlife and human settlement - downstream there is farming activity and the hydroelectric power plant which supplies the country with power.
Ruaha National Park has a high diversity or plant and animal life including elephants, buffalo, wild dogs and various species of antelope. Ruaha National Park is accessible by air and by road. The park offers game viewing, walking safaris, bird watching and bush meals.
The best time of the year to see large mammals and cats is during the dry season of May to December. January to May - the wet season - is ideal for birdwatching, wildflowers and Kudu, whose breeding season is in June. Ruaha National Park's variety of plants, animals, birdlife, mountains, wetlands and natural springs provide an array of safari choices.
See Ruaha National Park safari lodges in Tanzania below.