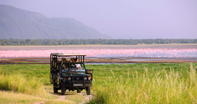 Lake Manyara National Park is located in Northern Tanzania, west of Arusha. The lake stretches for 50km along the base of the 600 metre high Great Rift Valley escarpment. Lake Manyara National Park is 330 square kilometers and when the water is high the lake stretches to 200 square kilometers of water. Access to the Lake Manyara National Park is by air or road.

There are daily charters and scheduled flights. The flights connect onto the Serengeti and Ngongoro Crater. The drive is an hour and a half from Arusha on a tarred road. If driving, the ethnically diverse market town of Mto Bu Mbu is worth a visit.

Lake Manyara National Park offers day and night game drives, canoeing (when water levels are sufficiently high), cultural tours, mountain bike tours, abseiling and forest walks on the escarpment outside the park. The dry season - July to October - is good for large mammals. June to November are excellent for bird watching, canoeing and walking.

Safaris to Northern Tanzania can be part of a series or stand alone areas. See Lake Manyara National Park safari lodges and tours in Tanzania.