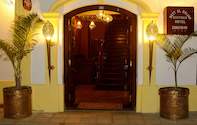 Beyt Al Salaam, formerly known as Beyt al Chai, is a lovely Zanzibar hotel in Stone Town filled with ancient history, lots of activities, and a variety of restaurants nearby.
All the rooms have been individually furnished
Guests have the opportunity to go on local tours
Flights are available on a daily basis
There is so much to see whilst wandering in the city
Beyt Al Salaam takes its romantic name from the history of the building, which, in years gone by, was a tea house. The cool reception at this hotel in Zanzibar immediately immerses one into a world of luxury.
Zanzibar's nobility would join together on the rooftop, in the shade of the palm trees, and enjoy a fantastic spiced tea and talk for hours, until they could admire the beauty of the setting sun. Today you will be treated like royalty at this Zanzibar hotel and enjoy the sunset while chatting and enjoying tea.
Ideally located on the famous Kelele Square in Stone Town, guests can enjoy a walk to one of the many nearby restaurants; enjoy the fine weather, see the star-filled sky and take note of the brightly lit streets of Zanzibar.