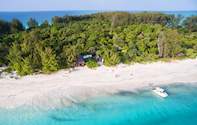 The exclusive and private Mnemba Island Lodge, situated just 20 minutes from the Spice Islands of Zanzibar, offers guests romance, beauty and the best diving site in Africa.
Mnemba Island is known for its excellent diving sites
It offers guests accommodation in luxurious bandas
Mnemba Island is situated just 20 minutes from Zanzibar
Enjoy exciting water sports at this enchanting island
This Zanzibar Island Lodge is situated just 4.5 kilometres (2.8 miles) off the north eastern tip of Zanzibar, on an exclusive and beautiful paradise island. Mnemba Island is definitely one of Africa's best diving sites and Zanzibar hotels, surrounded by stunning coral reefs and other wonders of the deep.
Mnemba Island is renowned for its romance and beauty, which makes it the ultimate Honeymoon and Zanzibar wedding destination. This idyllic island is situated in a marine reserve comprising of 4 habitats, where a wide range of tropical wildlife can be found.
Guests at Mnemba Island will get an amazing and rare opportunity to view the endangered Green Turtle, seasonal Humpback Whale, 3 species of Dolphin, Whale Sharks (world's largest fish), migratory and resident shore birds and about 600 different species of coral reef fish while staying at this luxurious Zanzibar Island Lodge.