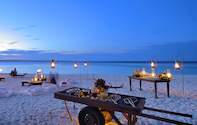 Mnemba Island is just a 20 minute hop from Zanzibar and is just one mile in circumference.
Mnemba, an Arabic word meaning 'octopus head' is situated just 20 minutes from the Island of Zanzibar. Guests will hop on to a traditional 16 foot flat bottomed boat and enjoy a short but memorable cruise to the Zanzibar hotel.
This island is just one mile in circumference, enveloped by sandy palm-fringed beaches and a tropical forest. A protection zone surrounds the island, which helps to conserve the beautiful coral reefs, home to giant turtles, ghost crabs and stunning tropical fish.
GPS Co-Ordinates
S 05°49.218'
E 039°22.959'