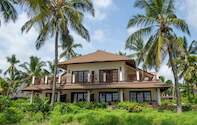 Stay at Breezes Beach Club Resort Hotel and discover the exotic spice Island of Zanzibar. A romantic spot for couples, honeymooners and destination weddings in Zanzibar.
Situated on the beautiful island of Zanzibar, Tanzania
Luxurious Zanzibar beach resort accommodation
All rooms have en-suite facilities and air-conditioning
Enjoy dinner by candlelight with stunning views of the ocean
This beautiful Zanzibar beach resort is situated along a pristine, untouched beach stretching as far as the eye can see on the island of Zanzibar, Tanzania. With personalised service and warm hospitality, Breezes Beach Club Resort Hotel is a traveller's home away from home. This Zanzibar beach resort has a unique charm and has become renowned for its great attention to detail and tasteful décor.
Guests are offered a wide variety of facilities without compromising the personalised and relaxed atmosphere, which has become synonymous with the name 'Breezes'. Stroll for miles on a white, sandy beach, dine in candlelight overlooking the ocean, savour the taste of exotic spices, discover the meaning of relaxation and enjoy an excellent variety of recreational and dining facilities.
At Breezes Beach Club you will re-visit days gone by and discover Zanzibar's magic in luxury and comfort. This Zanzibar beach resort assures you a holiday with a personal touch and rest assured that your visit to this fascinating Island is a memorable one. Breezes Beach Club Resort Hotel is dedicated to ensuring that you depart with this same feeling and the intention that you will return once again, making it one of the most welcoming hotels in Zanzibar.
The spice island of Zanzibar makes the ideal wedding and honeymoon destination. Breezes Beach Club Resort Hotel is the perfect retreat for honeymooners, with special surprises during your stay. This beautiful hotel has a romantic charm and offers a number of memorable venues just perfect for two, whether for your wedding or honeymoon.
Dining at Breezes Beach Club is in a variety of restaurants and bars including the Salama Dining Room, The Breakers Grill, The Tides private beachfront dining, The Sultans Table and the Pool Bar.