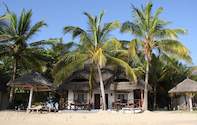 Chapwani Private Island, a Zanzibar resort, is an idyllic private island of 5 hectares surrounded by the turquoise warm waters of the Indian Ocean.
Small private paradise
Restaurant, wedding facilities, pool, boutique
Home-grown produce and eco-friendly principles
Free boat transfers to Zanzibar town
Encircled by a beautiful coral reef, Chapwani Private Island is a little island immersed in crystal blue waters, filled with starfish and multi-coloured corals. Just a short boat ride from town, this Zanzibar resort offers an amazing beach and stunning sunsets where guests can relax and enjoy it all at their own pace.
The flexibility and politeness of the Chapwani Private Island staff ensures that guests have the freedom to explore at leisure. There are free transfers daily to town and back or visitors can make other more personalised arrangements with Chapwani.
The restaurant at the centre of this Zanzibar resort has a cosy environment overlooking the sea and is built with wood and makuti using typical local architecture. Each year seeds are sown from the resort's own fruit and vegetables to be able to offer home-grown produce along with fresh eggs.
Local fishermen supply the latest catch for delectable fish dishes of the day. The cuisine specialties are a mix of flavours and aromas with ethnic and Zanzibari influences, adapted by the cooks of the island who have a professional background overseen by an Italian chef.
Adjacent to the restaurant is the bar zone which is divided into various corners offering comfortable sofas with brightly coloured cushions. During the day, exotic thirst-quenching tropical cocktails can be enjoyed around the feature sea water pool with a variety of aperitifs available at sunset.