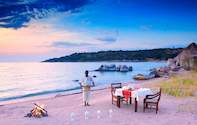 A breathtaking location, luxury suites, outstanding service and many exciting activities make Lupita Island Resort and Spa on Lake Tanganyika ideal for your African island holiday.
Lodging is offered in cottages and 2-bedroom family cottages
Lupita Island Resort has a fully equipped Health and Beauty Centre
The lodge offers privacy and seclusion - ideal for Honeymoon couples
Enjoy boat cruises and watersports on Lake Tanganyika
Lupita Island Resort and Spa is a peaceful Tanzania resort at the southern end of Lake Tanganyika. Lupita Resort is built on a 110-acre island and offers guests complete privacy. This luxury Tanzania resort was designed to blend in with the environment and has breathtaking surroundings consisting of dense indigenous forest, open grassland and rocky outcrops.
Lupita Island Resort accommodates guests in cottages and 2 two-bedroom family cottages. Each of the rooms boast a private plunge pool on the deck or terrace and open-air rooms. A fully-equipped Health and Beauty Centre at this Tanzania resort combines holistic and traditional treatments to pamper the weary traveller.
The large complement of staff at Lupita Island Resort will ensure the highest standards of service that will satisfy every need of guests at this Tanzania Resort. Facilities include a spa, gym, swimming pool, games room, bar and lounge, boma and a beach shack.