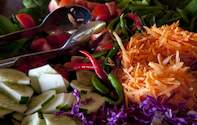 "How would you like your meal, sir?".
Reclining on a cushion and gazing over the rooftops of the ancient Stone Town? Bobbing gently on the deck of an ocean-going dhow as the sun sets behind the Sultan's Palace? Or perhaps stretched out in the shade of a palm tree, watching the fishermen dragging their catch up the beach?
From scraps of cassava roasted over charcoal, to cauldrons full of aromatic pilau rice served up at lavish weddings, food is consumed with gusto everywhere in Zanzibar and her sister island, Pemba. The islands' famous spices combine with hundreds of fruit varieties and a wealth of fish and seafood to create a uniquely delicious and distinctive cuisine little known in the rest of the world.
Zanzibar's Exotic Spice Farms
Zanzibar had two major exports in its history; one was the slave trade and the other a thriving spice industry. Today, of course, only the latter is still going and a visit to a spice farm will bring your sense of smell to life.
It should come as no surprise that Zanzibar's cuisine offers a bewildering array of tastes, flavours and textures. The island's position on the edge of the Indian Ocean has brought visitors from other lands since time immemorial - Persians, Chinese, Arabs, Indians and many more have all sailed their vessels into Zanzibar's harbour over the centuries, bent on trade and sometimes plunder.
And with these strange visitors came new ways of eating - heaps of glass noodles from China, sweetmeats from Arabia, spices from India. Zanzibar's cuisine, like its language, is a mix of ingredients from all over the world.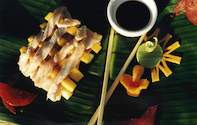 But Zanzibar doesn't owe its magnificent culinary heritage just to visitors from overseas. Situated just a few degrees south of the equator, it luxuriates in a tropical climate and soils so fertile that, as the locals say 'you can plant a stick in the ground and next day you'll have a forest'.
The different fruits, vegetables and spices introduced by merchants and traders all flourished in this rich, fecund environment and were soon incorporated into Zanzibar's agricultural life.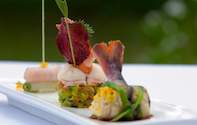 Clove trees, for example, were introduced from Mauritius by the Omani sultans in the eighteenth century, and have since flourished to become Zanzibar's main crop. Their rich, perfumed taste pervades many of the pilaus and biryanis found on the menus of Zanzibar's hotels and restaurants.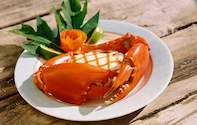 The Portuguese, too, introduced food crops gathered on their earlier voyages of conquest and discovery - maize, cassava, cashew and jojoba trees, avocado, guava and pineapple, whose Swahili name, nanasi, shows its origin in the Portuguese ananas.
Another vital ingredient in Zanzibari cooking is the coconut. Since it takes up to 10 years for a coconut palm to mature, it makes sense that nothing is wasted and every part of the tree is used.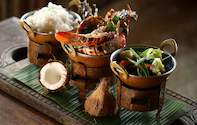 ©Stevie Mann
Young, green coconuts are sold on the streets from the front of bicycles, slashed open on the spot by the vendor's machete so that the sweet, infinitely refreshing juice inside can be drunk at once. The white inner flesh is scraped and pounded with a special wooden implement, then squeezed through muslin with water to create the rich, sumptuous coconut milk so vital in all Zanzibar's curries and rice dishes.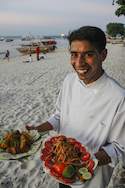 ©Eric Miller
These days the visitors that arrive in Zanzibar are bent not on trade or piracy, but on relaxation, indulgence and a revival of the spirit.
International travellers have become connoisseurs, able to circumnavigate the globe with ease in search of the finest, most decadent experiences the world has to offer.
Zanzibar is now firmly established as one of the world's most exotic destinations, and the visitors that arrive here have high expectations to be fulfilled.
They are not disappointed. Zanzibar's hotels and restaurants combine Eastern hospitality with Western flair, providing standards of design and cuisine the equal of any of the world's better-known playgrounds.
Food on Safari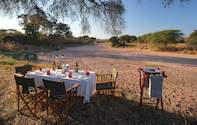 So much for Zanzibar and its mouthwatering treats. Can you expect a similar standard of cuisine when on safari on the Tanzanian mainland?
'An army marches on its stomach'. This saying could also hold true for a safari. Since the times of the earliest pioneers, food and cooking have been an integral part of the safari experience. Nineteenth century explorers, such as Livingstone or Burton, had sometimes to exist on termites and grubs as they forged their way into the unknown. One menu prepared for early safari pioneer Vivienne de Watteville read:
Starter: Consomme (Giraffe)
Second course: Tongue (of Giraffe)
Main course: Tail (Giraffe)
Which part of the aforementioned giraffe provided the dessert was, unfortunately, not recorded! Another traveller, Donaldson Smith, was happy to find fish on his safari table - until he discovered it had been cooked in Vaseline! US President Theodoore Roosevelt, it was reported, waited hungrily at the end of a hard day on safari for his meal of elephant trunk soup, oryx tongue and ostrich liver, followed by slices of elephant heart roasted on sticks over an open fire!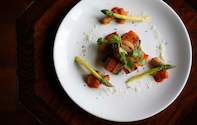 ©Stevie Mann
But ever since the continent became the playground of Europe's rich and famous in the early twentieth century, food standards on safari have been becoming ever more lavish. The white hunters of the 1930s and 40s considered it shockingly lax to entertain their film-star and industrialist clients with anything less than ten courses at dinner, all conjured from supplies carried laboriously on the heads of porters, or gleaned from game shot along the way.
These days safari cuisine has become more influenced by the flavours of the continent itself. African food is bold and colourful, with rich, earthly textures and strong, spicy undertones. Arab merchants, European colonists and Malay slaves have all influenced Africa's native cooking, resulting in a cuisine diverse and yet simple to prepare.
But whether fly-camping in the bush or staying in a lodge, the day still begins with the traditional 'Full English' - bacon, sausages, tomato and fried eggs, more often than not cooked in a heavy iron skillet over a wood fire before dawn by the camp cooks. Fresh tropical fruits from the lowlands and hardy vegetables from cool highlands are always available.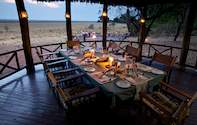 Technology may have moved on somewhat since the days of the early safari pioneers, but today's bush chefs are nevertheless required to work miracles with the most basic of equipment and ingredients. The most essential element in safari cooking is the fire - at least six feet across, with ashes, flames and coals of varying temperatures for every type of dish.
Fresh-baked bread is prepared in an old tin trunk over smouldering ashes, legs of succulent lamb are roasted by being buried in the earth in a nest of hot coals, or vegetable kebabs skewered on pieces of wood plucked from a nearby tree. Food is kept cold in gas fridges, packed in ice or simply brought into camp 'on the hoof"!
Copyright © Gemma Pitcher 2004