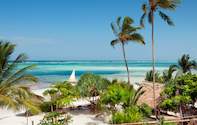 The Melia Zanzibar Hotel is located on the prestigious northeast coast of Zanzibar, approximately 50 kilometres (45 minutes) from Stone Town, a World Heritage Site, the Zanzibar ferry Terminal and the Zanzibar International Airport.
The Island of Zanzibar lies just off the coast of Tanzania. The island is home to many spice plantations which produce Cloves, Nutmeg and Cinnamon. These spices brought great wealth to the island in the 18th and 19th centuries. You can see the remnants of this wealth in the beautiful Arab influenced architecture in one of Africa's oldest cities Stone Town. There are many markets that sell spices, cloth, clothes and antiques.
While staying at the Melia Zanzibar hotel you can go on several excursions. The Jozani Forest is home to rare Red Colobus Monkey's. You can go on guided tours of the forest and see the interesting plant life and these playful animals. Other popular excursions are to Prison Island where you can go snorkelling with turtles and a visit to the historic Slave Market.