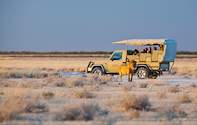 Wildlife is the main attraction at Okaukuejo Camp. The waterhole makes it possible to witness sensational wildlife sightings without ever having to leave the camp!
Game Drives in Etosha National Park
During your stay at Okaukuejo Camp, you can enjoy full-day or half-day game drives in Etosha National Park, with options for self-driving or fully guided drives.
Expert guides lead the guided game drives who know their way around the park and will be able to show you as much wildlife as possible.
Due to Okaukuejo being inside Etosha National Park you can go on guided night drives - which you would not be able to do if staying at a private lodge outside the park. During these night drives, you can spot predators like lions and hyenas.
Waterhole Wildlife Extravaganza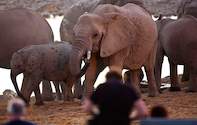 The waterhole at Okaukuejo Camp is one of the most well-known in Namibia for good reason: the large number of elephants who come here makes for great viewing. It's not just the elephants that make it so popular, there are a multitude of other animals that flock to the waterhole each day.
The waterhole is floodlit at night so you are guaranteed to never get bored after dark, as you will be able to watch all sorts of nocturnal wildlife. To experience the floodlit waterhole in all its glory, you'll need to book a stay at Okaukuejo Camp.