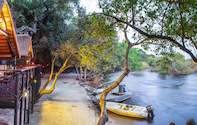 Ichingo Chobe River Lodge on Impalila Island in Namibia is every fisherman and nature lover's paradise.
Why We Love it and You Will Too
Accommodation: Comfortable safari tents each have their own boat and guide
Highlights: Wildlife in Chobe National Park, birders paradise, tiger fishing
Activities: Excellent tiger fishing, birding, guided walks, sunset river cruises
Getting There: Fly to Kasane Airport, then transfer to the lodge.
Your Ichingo Chobe River Lodge Experience
In the heart of Africa lies this Ichingo Chobe River Lodge, otherwise known as the 'Gem of the Chobe'. Ichingo Chobe River Lodge is a luxury tented Caprivi safari lodge that provides guests with a true African experience. Located in one of the world's finest wetland areas, it offers superb game viewing opportunities, bird watching and the chance to try to catch the mighty Tiger Fish.
Ichingo Chobe River Lodge offers many facilities for your convenience. It has its own airstrip with customs and immigration facilities. This luxury lodge prides itself on the knowledgeable guides that work here. The guides have good success rates in landing Tiger Fish, especially when fly-fishing.
Birding enthusiasts have the year round pleasure of observing up to 400 recorded species of birds, including water bird species. There are summer migratory species that may be seen here between September and March.