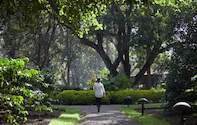 Arusha Coffee Lodge is 9km (5½ miles) west of Arusha in Tanzania, on the road to Tarangire National Park, Ngorongoro Crater and the Serengeti.
Arusha Coffee Lodge's views stretch to Mount Meru and across the 2,100 acres coffee plantation. This lodge in Arusha is accesable by road from Nairobi when traveling from Nairobi (the capital city of Kenya). Arusha forms part of the Northern Safari Circuit of Tanzania and is the gateway to some of the best safari destinations in Africa.
Arusha Coffee Lodge is on the western outskirts of Arusha, only a 5-minute drive from Arusha Airport. It is around a 90-minute drive from Kilimanjaro International Airport. This Tanzania lodge is also located en-route to the tropical islands of Zanzibar, making it the ideal destination for a stopover on your way to the island's sun-kissed beaches.