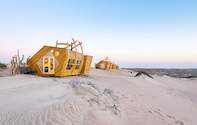 © Creativelab
Located among towering sand dunes, Shipwreck Lodge offers an out-of-the-way adventure on Namibia's Skeleton Coast, set along the Atlantic Ocean.
Why We Love it and You Will Too
Shipwreck Lodge is one of the most unique and dramatic Skeleton Coast accommodation options to be found on the African continent. Not many can say they've slept in a shipwreck, after all!

It may be called the Skeleton Coast but there is life to be found here, from seal and flamingo colonies to rare sightings of desert-adapted lions, hyenas and elephants.

While on 4x4 drives, you'll learn about the history behind the original shipwrecks that line the mist-enshrouded coastline. You'll also get to watch thousands of seals flopping about and lazing around in Möwe Bay.

Start your day with a sunrise breakfast overlooking the incredible landscape, and end off with a sunset climb to the top of those incredible rolling dunes.

Wherever you are at Shipwreck Lodge, you'll get a great view from every angle, even when on the loo (with portholes to ensure discretion!).
Your Skeleton Coast Experience
In Namibia, the Skeleton Coast is described by the local San as 'the Land God Made in Anger'. It's a suitable name for such a place of uninhabited and rolling coastline, strewn with bleached whale bones and the shipwrecks (over a thousand). It's simply magical, hauntingly picturesque, and in our opinion, an absolute must-see.
Our top pick for Skeleton Coast accommodation in this raw and rugged landscape is Shipwreck Lodge, located in the Skeleton Coast Central Concession Area. This stretch of land lies between the Hoarusib and Hoanib rivers. It is uniquely designed around the enigmatic shipwrecks that line Namibia's Skeleton Coast, and there's nowhere in Africa quite like it.
It is effortlessly nestled among towering dunes and wind-swept plains that roll on as far as the eye can see, with not to mention, epic views of the icy Atlantic. The central restaurant area is relaxed and atmospheric and it's the perfect meeting point to make the most out of the desert and sea vantage points. Another of Shipwreck Lodge's top features is the large furnished deck with its hoard of umbrellas and plenty of comfortable seating around the swimming pool. The bar is also a great spot to sample a cold Namibian brew.
The design and implementation is suitably "eco", given Shipwreck Lodge's location on a sand dune 40km from the nearest road, in a totally raw environment. As for the available activities, expert-led game drives will have you in search of desert-dwelling fauna and enchanting desert flora (succulents and lichens).