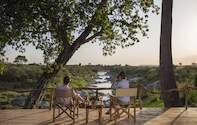 Rekero Camp in Kenya is in a prime wildlife location less than 150 meters from the migration crossing point on the Talek River. The Great Migration passes through every year providing the ultimate in wildlife viewing.
Witness the Great Wildebeest Migration
Rekero Tented Camp caters for 16 guests
Superb year-round game viewing
Game drives, hot air balloon safaris, cultural village visits
Rekero Camp in Masai Mara, Kenya is situated in the midst of the Mara Serengeti eco-system, home not only to the Beaton Family but also to the greatest concentration and diversity of wildlife in the world.
The Beaton family arrived in Africa in 1889, pioneering Kenya's conservation movement in 1946. The conservation tradition continues today at Rekero Camp where old time hospitality and a unique insight into the Masai Mara's wildlife, cultures, flora and fauna is offered to all guests.
Rekero Camp is situated in what is recognised as the prime site within the Masai Mara Game Reserve, close to the confluence of the Mara and Talek River and ten minutes from the main Wildebeest crossings during the migration. Rekero Camp overlooks large pools populated with hippo and crocodiles and offers some of the finest big cat viewing in Africa.
Wildlife viewing can be done on foot with experienced Masai and Il Dorobo guides at Rekero Camp or in custom four-wheel drive vehicles that allow intimate yet unobtrusive access to the animals.
Rekero Camp is ideally situated for the annual Great Migration, which is the movement of over one million wildebeest and two hundred thousand zebra from the Serengeti through the Masai Mara in Kenya.