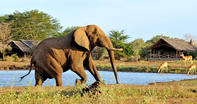 Tsavo East National Park is located on the east coast of Kenya and lies between the cities of Nairobi and Mombasa. Tsavo is one of the oldest parks in Kenya and was opened in April 1948.
Tsavo East is the larger of the two parks in Tsavo National Park and its arid bushveld is defined by the azure waterways of the Galana and Athi Rivers, volcanic lava fields, thorny bush, marshes and savannah grasslands.

From the world's longest lava flow, the Yatta Plateau to the Lugard Falls and water-worn rocks, Tsavo East is home to every creature, from hyenas, leopards, elephants to Somali Ostriches, migratory birds and kongoni antelope. Walking safaris and bird watching are offered in Tsavo East National Park

Tsavo East National Park accommodation in the eastern park consists of luxury Kenya safari lodges.
See below for Tsavo East National Park safari lodges offered in Kenya.