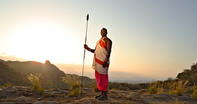 Samburu National Park is located on the Ewaso Ng'iro River in Kenya. It is 165 km in size and is geographically located in Samburu Country. Samburu was where George and Joy Adamson raised Elsa the Lioness and wrote the famous best-selling book and movie "Born Free".
With a distinct isolated beauty of the dry North, the National reserves of Samburu, Shaba and Buffalo Springs, are heavy with classic big game, termite skyscrapers, home to the Ewaso Ngiro River and host a population of creatures that occur in no other major Kenyan Park.
These include rarities such as the blue-leered Somali Ostrich, Grevy's Zebra, unicorn-like beisa oryx, flocks of vulturine, marshal and helmeted eagles, reticulated giraffes and the gerenuk, a gazelle with an exceptionally long neck. The local populations of the neighbouring communities are of the Rendille, Borana and the Samburu tribe, a descendent clan of the Masai.
Cattle, as well as sheep, goats and camels, are of utmost importance to the Samburu culture and way of life. The Samburu paint their faces using striking patterns to accentuate their facial features and neighbouring tribes, admire the beauty of the Samburu people, called "Samburu" which means butterfly.
Samburu safari lodge activities include cultural tours with the local Samburu tribe, in which one can have a cultural experience with traditional food and dancing. There are also game drives, guided walks, mountain biking, big cat tracking, camelback safaris and bush breakfasts.
Accommodation is in the form of luxury Samburu safari lodges in the park. See below for Samburu National Park safari lodges in Kenya.