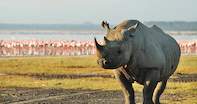 Lake Nakuru is a shallow soda lake nestled in the Great Rift Valley of Kenya. Lake Nakuru National Park protects it. There are many other diversities in the park which range from animal and bird habitats from the lake to the escarpment and the beautiful scenery.
Lake Nakuru is renowned for its huge concentration of brilliant pink flamingos, over 460 species of birds and a wealth of other wildlife.

The alkaline lake's abundance of algae attracts a large number of flamingos (estimated as millions) that famously line the shore. Alongside the flamingoes, the park provides sanctuary for the black and white rhino.
The Nakuru eco-system comprises the lake, surrounded by wooded areas and grasslands which support a number of Rothschild Giraffes, Zebra, Impala, Gazelle, Waterbuck, Lion, Warthog, Bushbuck, Buffalo, plus the elusive Leopard.

Lake Nakuru has many luxury lodges overlooking the park to choose from. Lake Nakuru National Park is also perfect for bird watching, game drives and picnics. The beautiful Makalia waterfall is surrounded by lush forests and 24 km from the park.Lake Nakuru National Park has beautiful view points such as Out of Africa, Baboon cliff and Lion hill.

See below for Lake Nakuru National Park safari lodges in Kenya.