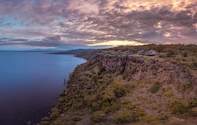 The Cliff Nakuru is the first boutique tented camp inside Lake Nakuru National Park in Kenya, and is just the place to book if you're looking for absolute luxury in the bush.
Why We Love it and You Will Too
Take in views of Lake Nakuru from all angles on 4x4 game drives with expert guides. Keep an eye open for sightings of various birds as well as zebra, buffalo, giraffe, waterbuck, rare white rhinos, hyenas, lions and even leopard if you are very lucky.
The Cliff Nakuru is the very first boutique camp inside Lake Nakuru National Park setting the bar with top-notch Kenyan hospitality.
Luxuriate your nights in your private tent-style room which boasts a private balcony for your panoramic viewing pleasure.
Indulge in a relaxing massage at the private spa or head to the on-site gym to keep up with your fitness routine while on a Lake Nakuru safari in Kenya.
In between game drives, relaxation is fully-encouraged. Take a dip in the infinity pool with a refreshing beverage, or take up a seat at the bar just in time to watch the African sun slip beyond the horizon.

Your Lake Nakuru Safari Experience
Kenya's Lake Nakuru is set in the ancient Rift Valley, far from the clutches of the tourist hordes. It promises an uninterrupted experience with nature, only two and a half hours from Kenya's capital city of Nairobi.
Protected by the surrounding national park, the best place to get your room with a view is at The Cliff Nakuru, perched at the top of a 100-metre high rock face. This luxury Kenya camp is a new favourite of ours, hitting the sweet spot between relaxation and adventure.

The Cliff Nakuru unique features are that it offers a perfect combination of a Kenya safari lodge, a tented camp and a boutique hotel. It defies conventional labels and offers the best of everything during your Kenya safari in this wildlife-rich landscape.
At The Cliff Nakuru in Kenya, you'll quickly find yourself closer to nature than you've ever been. Especially as you channel your inner David Attenborough, venturing out on guided 4x4 game drives. Lake Nakuru National Park boasts four of Africa's Big Five. Besides flamingos (who in recent years have been slowly returning) there are around 450 species of birds found in this region alone. It's a real bird-lovers utopia, to say the least!
End your days in an open dining room with lantern-lit meals to satisfy the palate. Head to the spa to ease those tired muscles, or maintain your fitness regime at the fully-equipped fitness area. The infinity pool at The Cliff Nakuru offers the perfect spot to take in the views of the park, especially during sunset ― a sight you definitely won't get sick of!