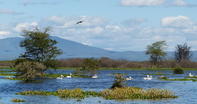 Lake Naivasha (rough water) is a freshwater lake north west of the capital Nairobi and it is the highest of the Rift Valley lakes which is 1884m above sea level. Freshwater shores fringed with papyrus and yellow acacias, hippos frolicking in the shallows and the cacophony of twittering birds, creates a lasting impression of Lake Naivasha.
Lake Naivasha has many different types of wildlife with a good portion of hippos and fish including Crayfish, Tilapia and Black bass. There are 400 species of birds of which Great Cormorants, Long-tailed, Fish Eagles, Pelicans and all types of Kingfishers as well as the Grey-backed fiscal are some.
There are many luxury lodges doddered around Lake Naivasha. Day trips are available to Hells Gate National Park which is at the north east edge of the lake and Joy Adamson's Elsamere farm. She is British naturalist and author of the international bestseller "Born Free", which describes her trials and tribulations of raising a lion cub called Elsa to adulthood. The farm house was bought in 1967 and is now a conservation centre, focusing on lake ecology and creating environmental awareness.
See below Lake Naivasha safaris in Kenya.