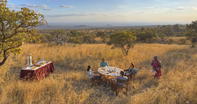 Tsavo West National Park is located between the cities of Nairobi and Mombasa. Tsavo West National Park is the continuity of one of the greatest National Parks in the world.

The west incorporates rolling vistas of hills and bush, stark, volcanic outpourings, honeycombed tunnels shaped by the bubbling Tsavo River itself. Eden-like pools and freshwater springs, shaded by palm and fig trees can be found at Mzima Springs and along the river banks.
This breathtaking expanse of landscape attracts all of Africa's Big-Five animals, the small and mysterious ones too. There are also sanctuaries for the black rhino as well as antelope, gazelle, melanistic servals, aardwolves and 400 bird species.
Accommodation is in the form of luxury Tsavo West safari lodges in the park.

Tsavo West National Park safari lodge activities include hikes to viewpoints e.g Poacher's Lookout, Rhodesian Hill, Ngulia and Kichwa Tembo. This is a good area for game drives with the longest game drive to Ziwani Swamp where one can have a picnic. Night game drives are also available.
See below for Tsavo West National Park safari lodges in Kenya.