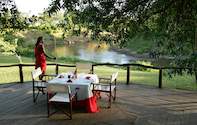 Governors' Camp is situated on the banks of the Mara River. Service and comfort is of the utmost importance on your Kenya safari vacation at this classic safari Masai Mara camp.
Exciting game drives and game walks in the Masai Mara
Optional hot-air balloon rides with a champagne breakfast
Trips to Lake Victoria along with a variety of activities
Guests are hosted in a luxury tented camp with 8 safari tents
Governors' Camp in Kenya is situated on the banks of the Mara River in the west of the Masai Mara Game Reserve. Built in 1972, this game lodge in Kenya has developed into a luxury tented camp, placing particular emphasis on comfort and service.
Maintaining these unique qualities as a tradition, this game lodge in Kenya has been refined and improved through the years. Special care has been taken to preserve an atmosphere at this Kenya safari camp in which today's traveller can share the same elemental landscape that inspired Hemingway and magnetised adventurers the world over.
The Masai Mara is a unique area with a constant and unrivalled flow of wildlife throughout the year. From July to October the Mara becomes a backdrop for one of the last great natural wonders of the world, when a mass total of 1. 4 million Wildebeest and Zebra surge up from the Serengeti plains in their annual search for the seasonal grasses that sustain them. Witness this on your stay at Governors' Main Camp in the Masai Mara.
The spectacle as the vast herds cross rivers and sweep through the golden grasses, is punctuated by individual struggles with the predators, which in turn are drawn to take their part in this dramatic event. Whilst the migration is spectacular, game viewing at all other times of the year remains almost unrivalled anywhere in Africa, here at this classic safari camp in Masai Mara.