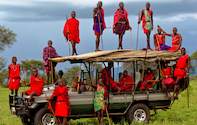 For an authentic wildlife Masai Mara safari and all the Out of Africa safari romance of a 1920s luxury Kenya safari camp, Cottars Camp has it all.
Exclusive luxury tented accommodation for guests
Immersive safari experiences with the Maasai tribe
Extremely private concession of land, no other tourists
Adjacent to Serengeti and Masai Mara wildlife reserves
At this luxury Kenya safari camp in the Masai Mara, guests will be transported to a bygone era - the home of the real Masai Mara safari in an untouched, completely private land concession with abundant wildlife.
Discerning guests who want a genuine bush experience in comfort and style with personalised service will revel in the exclusivity of this luxury tented camp where guests can be accommodated.
Guests have the services of a butler during their stay and may not want to leave their splendid tents or the opulent Mess Tent that boasts a cosy lounge with a fireplace, library, Art Nouveau style bar and Explorer Tent filled with fascinating first edition Africana books and safari explorer equipment. The exceptional views and sublime service are hard to match, however, adventure awaits!
The Cottar family has a long history that is bound to the land and its inhabitants, and they take pride in giving guests a personal and professional insight into the original spirit of adventure African safaris epitomised in the 1920s.
This Kenya safari camp offers fabulous guided walks as well as night drives, an activity not permitted in the game parks. Game drives can be taken in a modern custom-safari vehicle or in a fabulous vintage wooden-bodied safari vehicle.
A highlight of staying at Cottars 1920s Safari Camp is the immersive safari experiences with the local Maasai tribe. Fascinating activities include a medicinal plant walk, foraging for wild food sources, Maasai culture experience, e-bike rides, stargazing, Maasai warrior school, Maasai school tour, game walks or runs with a Maasai warrior and much more.
Guests can also swim, or spend an afternoon fishing or for real relaxation try the famous Cottars bush bath. Bush meals are a delight, and along with the tastefully decorated dining room and the silver service, dining on your Kenya safari will be an unforgettable experience.