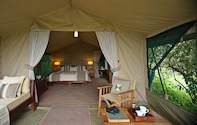 Rekero Camp offers Masai Mara safari accommodation in 9 tents (including 2 family tents) with en-suite bathroom facilities and a private veranda.
Rekero Camp offers Masai Mara safari accommodation in spacious tents with twin or double beds, all en-suite with flush loos and indoor showers. Solar lanterns and kerosene lamps are provided in each tent. An inverter is available to charge video camera batteries, and there is a satellite phone available.
The safari chefs produce appetizing 'farmhouse' meals, which utilize skillful blends of flavours and cuisine from both East and West. Special dietary requirements are catered for at Rekero's Kenya safari accommodation.
The camp is set up seasonally (June - March) to offer Kenya safari accommodation and caters for up to sixteen guests. The team of professional Maasai safari guides and camp crew have worked together for years providing guests with an in-depth and truly memorable Masai Mara experience.
Perhaps the greatest part of what makes the Rekero experience so special is the interaction and mix of cultures that the guides and the local Maasai share so readily with their guests.
A cultural visit to the local Maasai and Il Dorobo communities, with whom the Beatons have a close association, together with some insight into their bushcraft, is a truly humbling experience during your Masai Mara safari accommodation at Rekero Camp.