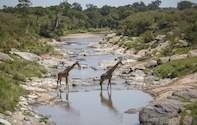 Here at Rekero Camp, you are able to witness the spectacular Great Migration river crossings and the frenzy of predator activity.
Located inside the Masai Mara, Kenya at an altitude of 4,800 feet, very close to the confluence of the Mara and Talek Rivers, Rekero Camp lies nestles in riverine forest on the banks of the Talek River.
The Masai Mara in Kenya and adjacent conservation area totals 750 square miles and forms the northern tip of the Serengeti Mara ecosystem. The Masai Mara in Kenya offers wonderful scenery and an amazing abundance of wildlife all year around the great migration season is between July/August to November.
Every year the Masai Mara in Kenya hosts what is now recognised as the greatest show on earth, 'The Migration' which takes place between July and October. Over a million wildebeest and two hundred thousand zebra pass through on their endless journey, following the rains and in search of grass in the Masai Mara, Kenya.
From Nairobi – Scheduled flights twice daily to Ol Kiombo.
From Nanyuki – Daily morning flight to Ol Kiombo.
Private Charters also land at Ol Kiombo, which is 20 minutes from the camp in the Masai Mara, Kenya.
Rekero Camp in the Masai Mara, Kenya is open from June to March and closed during April and May for the rains. The temperature never exceeds 85F / 30C during the day and rarely drops below 60F / 15C at night. The warmest time of year is December, January and the coolest is June, July.