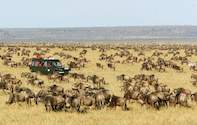 Go on a game drive, game walk or watch the wildlife from the viewing decks at Rekero Camp. During Great Migration safari season you have a prime viewing spot to witness the wildlife spectacular.
The Masai Mara is also home to one of the great fighting tribes of Africa, the Maasai whose culture is fascinating and truly unique. Cultural visits to the local Maasai and Il Dorobo communities, make a visit to Rekero a unique experience on Kenya safaris.
Wildlife viewing on Kenya safaris at Rekero is either on foot guided by experienced Il Dorobo and Maasai trackers, or in custom-built game drive vehicles, which allow intimate yet unobtrusive access to the animals. Bush picnics, sundowners and photographic safaris are also available.
Over a million wildebeest and two hundred thousand Zebra are on this endless journey in search of fresh grasslands. Typically the herds continue their journey south in November but have been known to stay into January.
The precise timing of the great migration season changes annually arriving in the Masai Mara as early as July, but more commonly in August and September. The Mara River is the greatest obstacle they have to face, the currents can be strong and the banks steep, but the gigantic Nile Crocodiles are their biggest obstacle!
Hot air balloon safaris over the Masai Mara involve an early start depending on the preferred take-off site. Usually, guests would leave camp at 05h30am for a half an hour drive up the Talek River to meet the balloon crew. After a safety briefing, take-off is at first light to catch the sunrise while floating over the endless grass plains to a well-deserved champagne breakfast.
Guests staying here gain an authentic insight into Maa and Ildorobo culture and the greater Mara eco-system with a combination of walking, and game viewing by 4X4, in this little utilized area of the mara.
Activities
Bush Walks
Bush Picnics
Bird Watching
Cultural Tours
Balloon Safaris