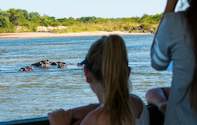 Business travelers, adventure seekers and those seeking casual relaxation will enjoy the selection of activities offered at Popa Falls Resort in Caprivi.
Game Drives and Boat Safaris
View exceptional animals of the wild on game drives in the Bwabwata National Park. Guests can also explore on a daily game drive and private guided trip to Mahango and Buffalo parks.
Visit Mahango and Buffalo game reserves nearby, a bird lover's paradise with numerous sightings of the 450 recorded bird species and a number of wildlife animals.
At Popa Falls Resorts guests can partake in daily fishing and angling activities. Enjoy delicious meals at the restaurant with stunning views. The bar at Popa Falls Resort is spacious and overlooks the falls. After a busy day, guests can relax by the sparkling swimming pool.
Conference Facilities
The conference venue at Popa Falls Resort hosts between 40 and 100 people in a variety of arrangements, such as boardroom style, schoolroom style, cinema style or in a U-shape.