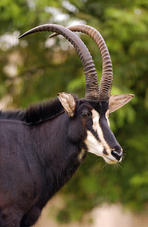 © Sable
Between Victoria Falls and the Botswana border are a number of private concessions that are part of a broad conservation area along the Zambezi River. The most interesting of these is the Matetsi Private Game Reserve, a 50 000ha reserve famous for its population of rare sable antelope.
Photo: Albert Froneman
Matetsi, a hunting concession taken over by CC Africa in 1995, is set on a broad flood plain. It has two luxury lodges, Matetsi Water Lodge, which overlooks the Zambezi, and Matetsi Safari Camp, overlooking a pan in the mixed woodland away from the river.
In 1903, Percy Clark wrote in his Autobiography of an Old Drifter that there were more lions in Matestsi than he'd ever encountered and that these beasts were a constant threat to travellers. "Years later, when a farm was taken up at Matetsi, the farmer shot over 100 lions on the farm itself inside a period of 3 years."
Between Matetsi and Victoria Falls is the Katuna Valley, which Livingstone christened "the valley of death". Clark once trekked for two days through this waterless stretch of wilderness. He recounted that the thirst was overwhelming when his party came across a "Hebrew angel" in a scotch cart who insisted they each have a gin with their water to help them recover. "I waited until he had poured out a good pint. I can't believe that nectar itself could have tasted better than that drink did to me."

©Marleen Post
The Matetsi area is on an elephant highway, and there are good sightings of these animals in winter. A convenient stopover between Victoria Falls and Botswana is Imbabala Safari Camp, close to the border post.
It overlooks the Zambezi River and offers guided game drives and boat cruises on the river.
Photo: Marleen Post
Kazuma Pan
This small game reserve on the Botswana border is an important part of the Chobe game migrations. There is great habitat diversity within this 313km2 area, which is known for its sable antelope. It may be the only reserve in Zimbabwe where oribi are found. There is one circuitous road into Kazuma Pan and a choice of two camp sites. Book at the Matetsi Consrvation Centre.
Brett Hilton-Barber and Lee R. Berger. Copyright © 2010 Prime Origins.