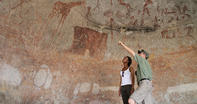 Located close to Bulawayo, Matobo National Park is noted for its spectacular granite rock formations and its wealth of ancient rock paintings, so much, so it has been classified as a UNESCO World Heritage site.
The park is situated in the magnificent Matobo Hills, a range of domes, spires and balancing rock formations, which have been hewn out of the solid granite plateau through millions of years of erosion and weathering.
The majestic and rugged terrain of the park is a hiker's paradise and the diversity of the vegetation supports a wide range of wildlife. Matobo National Park also includes an Intensive Protection Zone where a large population of Black and White Rhinoceros is successfully breeding.
One can also visit the gravesite of Cecil John Rhodes, he is buried at the summit of Malindidzimu 'hill of benevolent spirits'. He referred to this hill as having a 'View of the World'. A short walk from the parking lot will lead the visitor to his grave, which is carved out of the solid granite hill and surrounded by a natural amphitheatre of massive boulders. The Matobo area has great spiritual and cultural significance to the local people.
See Matobo National Park safari lodges in Zimbabwe below.