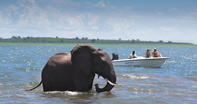 Heading north one will find the lapping water and lush banks of Lake Kariba in Zimbabwe. A great way to explore this natural setting is to hire a houseboat for a couple of days and cruise the waterways whilst watching game from your boat deck.
Tiger fishing tournaments and trips are held on Lake Kariba and it is a popular challenge to fight the legendary tiger fish. Other freshwater fishing locations include the Zambezi River above the Victoria Falls (known for its giant catfish), the streams of the Eastern Highlands its many lakes.
See recommended Lake Kariba accommodation and safaris in Zimbabwe.