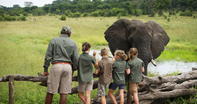 Zimbabwe safari guide - Thinking about going to Zimbabwe on holiday or safari ? Here are some reasons why you should visit Zimbabwe.
Zimbabwe Safari Destinations Guide
Zimbabwe may not be your first thought for an African safari, however Zimbabwe safaris offer excellent wildlife viewing, game drives and walking safaris. This combined with cultural excursions, adventure sports, canoeing and of course a visit to the majestic Victoria Falls, makes Zimbabwe an unexpectedly great holiday destination.
Top 10 Reasons to Visit Zimbabwe
Explore the magnificent Victoria Falls, classified as one of the seven natural Wonders of the World


Zimbabwe World Heritage Sites - Victoria Falls, Mana Pools National Parks, the Great Zimbabwe Ruins and the Kama Ruins which became the centre of power under the Shona people after the decline of Great Zimbabwe


Lake Kariba is one of the largest manmade lakes in the world, with abundant game sightings and excellent angling for bream and tiger fish


Zimbabwe National Parks including Hwange, Mana Pools, Matusadona and Chizarira


Adventure activities abound and include canoeing on the lower Zambezi and Kayaking and rafting on the upper Zambezi, White water rafting and bungi jumping are just two exhilarating pursuits available in the Victoria Falls area


For high adventure enthusiasts, white water rafting is most exciting when the Zambezi waters are low - generally from August to December - and is often referred to as the best one-day white water rafting in the world


Zimbabwe abounds in fascinating history including The Great Zimbabwe Ruins, culture and Shona sculpture art


Canoeing down the Lower Zambezi affords an ideal opportunity to get close to nature


Hospitality, friendliness and Eco Tourism in Zimbabwe


Magnificent scenic areas in the Zimbabwe Eastern Highlands