Victoria Falls National Park is a 2300ha (5680 acre) protected area that includes the town of Victoria Falls, the rain forest and the riverine bush along the Zambezi River as far as the Big Tree.
Above: Expect to get wet at the Falls
For many, the gentle beauty of the Zambezi River is as inspiring as the awesome Victoria Falls. As Ernest Holub - the explorer who produced the first map of the Victoria Falls area - wrote in 1881:
"Stretching far away into the distance are the numerous islands with which the river-bed is studded, the gorgeous verdure of their fan-palms and saro-palms standing out in striking contrast to the subdued azure of the hills behind."
Rain Forest
The rain forest is the core of the Victoria Falls National Park. The main entrance to the Falls on the Zimbabwean side is at the end of Livingstone Way, a short way before the border post. Be prepared to get wet, particularly in summer when the spray is akin to a tropical downpour.
Raincoats may be hired at the reception area. There are 15?viewpoints of the Falls from Livingstone's statue to the old bridge over the river. Allow for at least two hours to explore the area (see Part 2 for more detail).
Zambezi River Walk
This is one of the best ways to experience the tranquil, tropical beauty of the river above the Falls. This gentle walk along the river bank is excellent for birding and you may come across game.
Victoria Falls National Park Accommodation
Stay at
Elephant Camp
located in the Victoria Falls National Park in Zimbabwe.
Victoria Falls National Park Map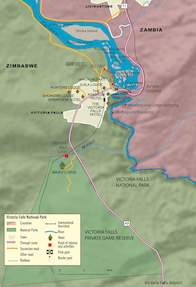 See A map of Vic Falls National Park
Brett Hilton-Barber and Lee R. Berger. Copyright © 2010 Prime Origins.
Victoria Falls National Park Accommodation